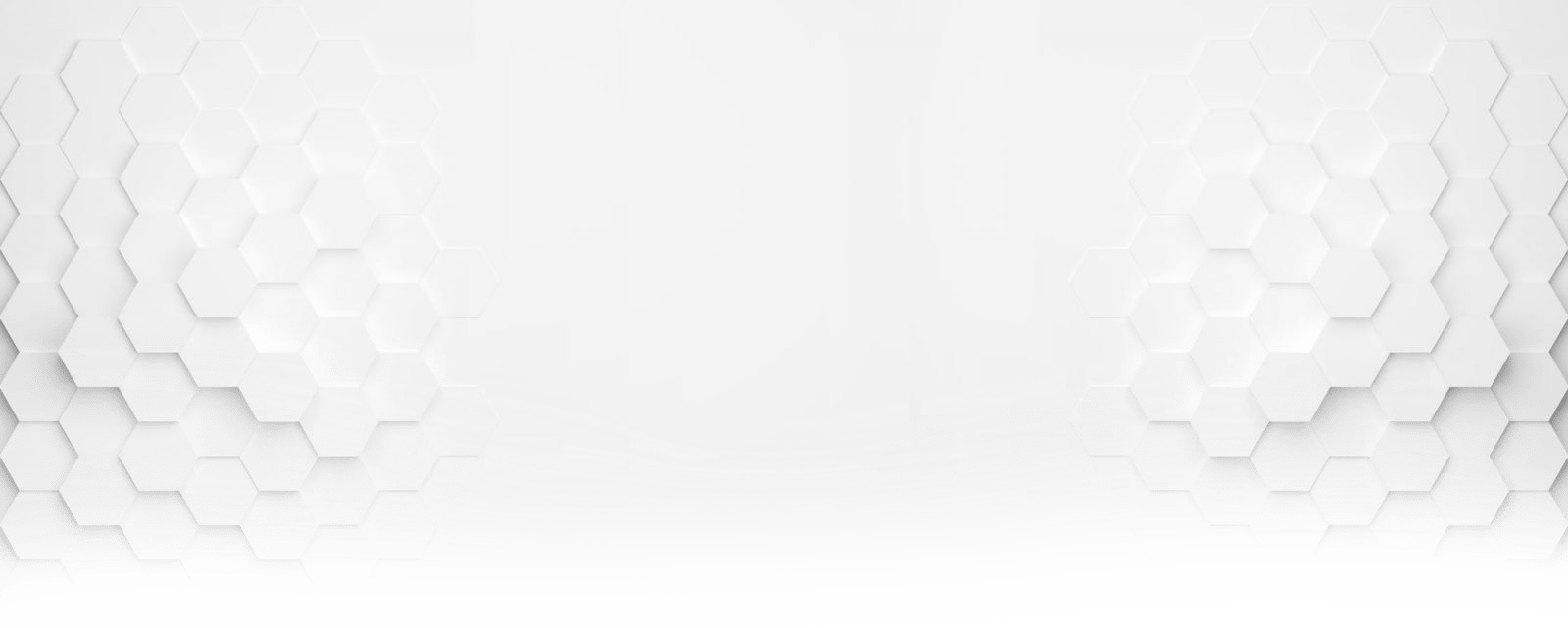 Steel & aluminium processing
Metal processing: the best answers to your conveying, pressing and guiding needs
Polyurethane coatings considerably prolong the service lives of pinch rolls as well as painting, guiding and conveying cylinders in the steel and aluminium industries. Using the ribbon flow method, we can apply a coating of polyurethane up to 30 mm thick to a cylinder core in one pass. There is hardly any more cost-effective or faster way. At the same time, both the quality and the mechanical properties are outstanding.
Our polyurethane Intec RTE material excels in terms of wear resistance and resistance to oils, greases and solvents. Our [PUR] coatings perform particularly well under dynamic loading and when abrasion and tear propagation resistance plus good rebound (resilience) qualities are required.
Furthermore, the INTERNORM cold- and hot-casting polyurethanes enable our customers to employ cast plastic parts profitably.
Coil coating cylinders:
INTERNORM [PUR] Intec CI has become well and truly established in the coil coating industry. Thanks to their outstanding solvent resistance and good swelling behaviour but at the same time excellent resistance to abrasion and cuts, polyurethanes are being used more and more for the painting of steel coils. We would be happy to refurbish and recoat your old cylinders. Our cylinder assembly shop can provide you with a complete service, including recoating, ball bearing maintenance, seal replacement, balancing, etc. Put our service to the test!
Outsourcing of cores –
exploiting expertise
As a supplier of cylinders, INTERNORM has excellent connections to metal roller manufacturers worldwide. Moreover, being part of Grimme Group means we have good access to metalworking machines. We can therefore easily offer you complete cylinders including core, ball bearings, seals, pillow blocks, etc.
Exploit our expertise in long-lasting cylinders!
For the steel and aluminium industries
Consolidation rolls
Idler rollers
Swimming rolls
Drive rollers
Feed rollers
Paint application rollers
Spreader rollers
Draw-in rollers
Conveyor rollers
Reel coverings
Examples of applications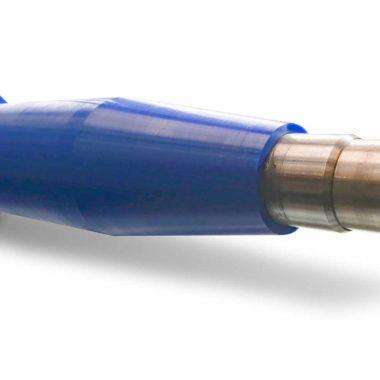 CYLINDER WITH COATED SPIGOT
Blue cylinder cast using rotational moulding, with spigot coating cast and ground beforehand. Spray control rings are later mounted on the spigot coating.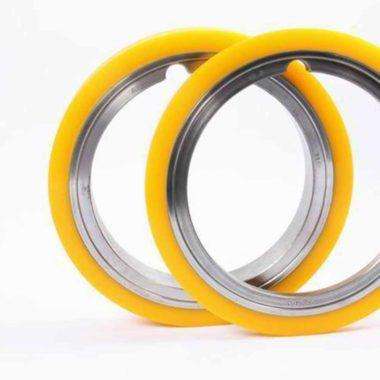 EJECTOR RINGS
Yellow ejector rings with high-precision polyurethane coating for use in steel processing plants. We are happy to supply the metal rings as well.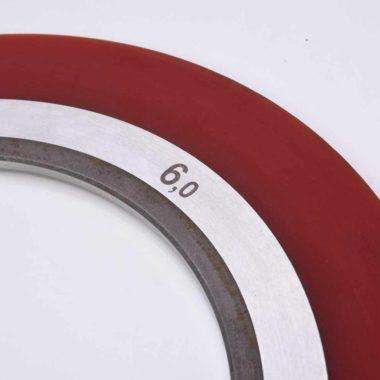 RED EJECTOR RING
The side of the red ejector ring was ground with a very tight width tolerance. The concentric running accuracy is < 0.05 mm!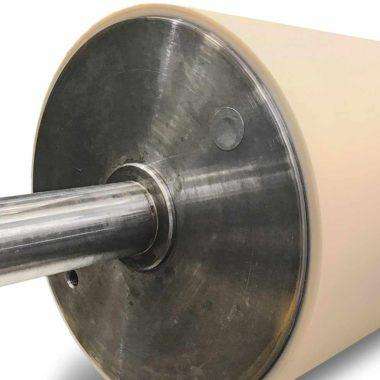 PRESS ROLLER WITH POLYURETHANE COATING
Diameters up to 1500 mm are possible with polyurethane coating thicknesses of up to 30 mm. The surface is ground and can be supplied with an Ra value as low as 1.2 µm.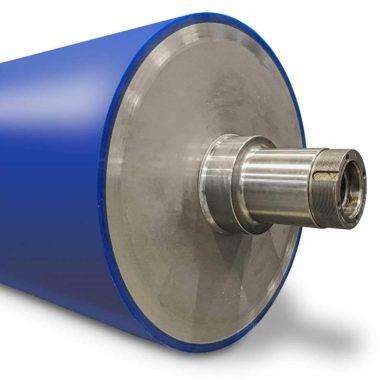 GROUND IDLER ROLLER
For mounting beneath endless steel belts. The cuts-resistant polyurethane protects the surface of the steel against scratches, also tensions the steel plates and guides them around the curve.
PAINT APPLICATION CYLINDER
INTERNORM [PUR] Intec CI is especially suitable for painting coils in steelworks. The excellent resistance to swelling caused by paints and cleaning agents results in precise paint application.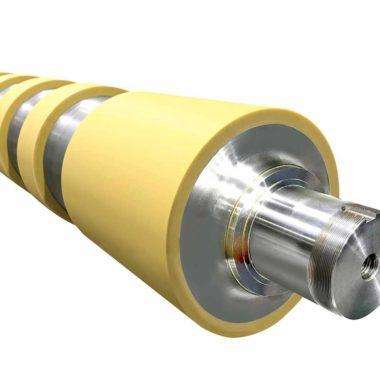 CYLINDER WITH RECESSES
The coating of this cylinder was recessed at certain points so that only the parts of the cylinder coated with polyurethane guide the sheet metal.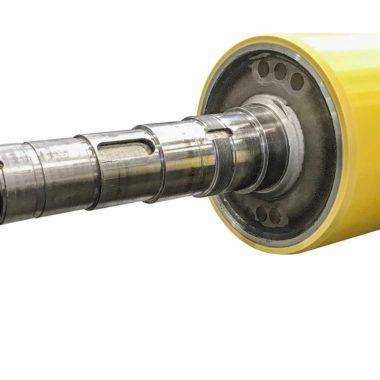 CYLINDER WITH [PUR] COATING
his consolidation roll was coated with an oilresistant, ether-based material. This strong, cuts-resistant product is especially suitable for consolidating steel coils.
The
[

PUR

]

e focus on development and production
INJECTION

MOULDING
Are you looking for a specialist to manufacture your injection-moulded parts? Then take a look here.
[PUR]

CASTING
Do you need large, soft or elastic parts made from polyurethane? Then simply get in touch with us!
[PUR]

CYLINDERS
Here are some examples of cylinders with [PUR] coatings. Take advantage of our all-round service.