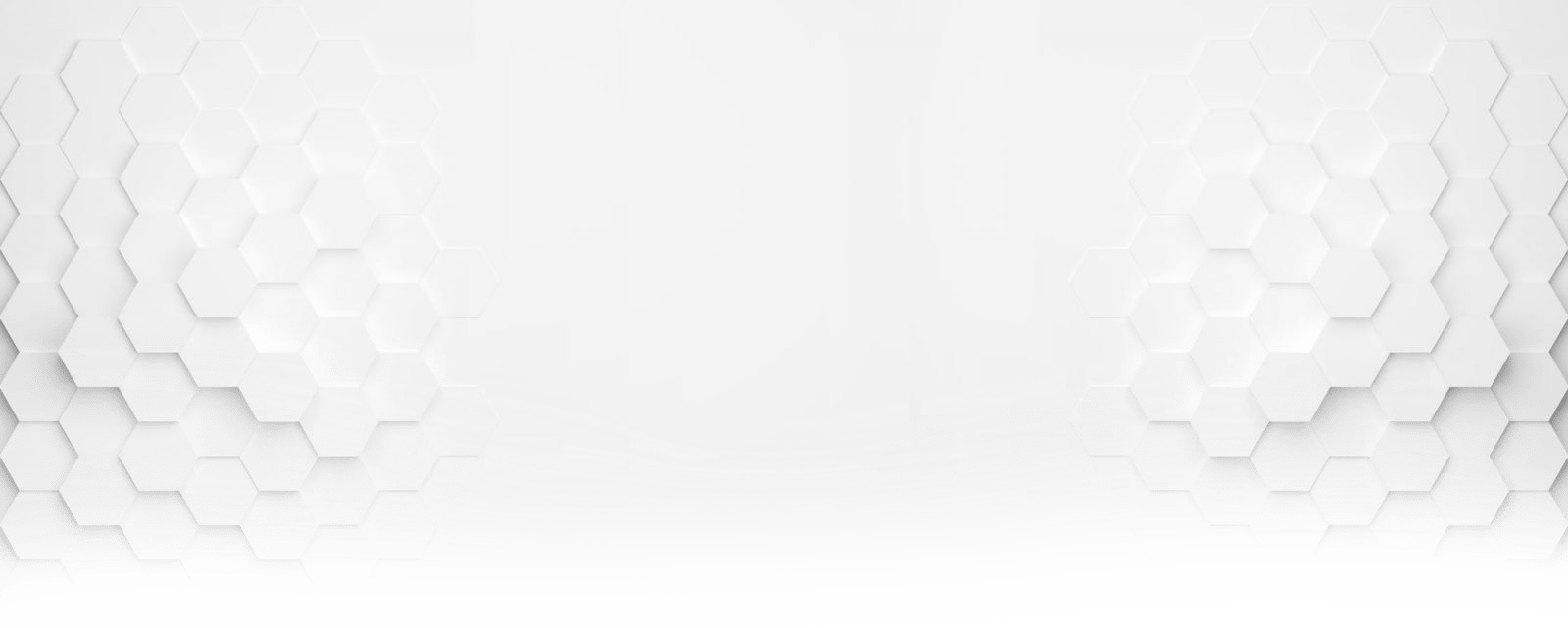 General machine engineering
The quality and precision of our products have made us an efficient technology partner to machine suppliers. Wherever maximum strength, ideal rolling conditions and extreme wear resistance are required, our polyurethane parts represent good options. The potential applications, particularly in conjunction with metals, polyamide, textiles, hardboard and glass fibre, are almost unlimited.
Polyurethane-coated cylinders produced by means of rotational moulding exhibit high wear resistance and good resistance to oils, greases and solvents. [PUR] coatings perform particularly well under dynamic loading, and when abrasion and tear propagation resistance plus good rebound (resilience) qualities are required; also when a good-quality, even coating is essential.
The production methods we employ ensure that the polyurethane coatings from Internorm are especially homogeneous. This is particularly important for roller and cylinder coatings that come into contact with products vulnerable to damage (e.g. paint coatings on steel or aluminium, wooden surfaces). Any unevenness in the coating here would cause permanent blemishes.
Internorm's polyurethane-coated products are tailor-made for the demands of many machine engineering applications.
Besides cylinders and rollers, cast and injection-moulded plastic parts are being used more and more in machines. They replace steel, in the form of wear parts, or are used to reduce weight, or serve as guards and screens. Internorm can handle both large and small batches cost-effectively. We are always ready to help with your developments and provide samples. We can work to your individual specification.
Where possible, we are happy to replace expensive steel or stainless steel parts by glass fibre-reinforced polymers optimised for the particular wear situation. For large batches in particular, it is frequently worth considering this alternative.
Housings made from hard cast polyurethane can be a good alternative for smaller batch sizes. We can also incorporate metal inlays, e.g. the inclusion of reusable screw threads.
Examples of applications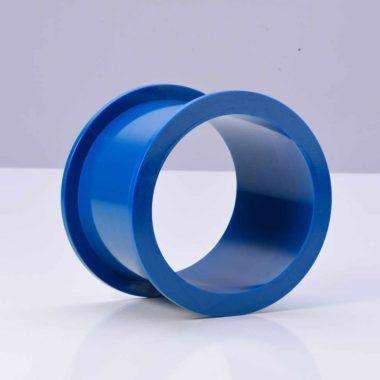 POLYURETHANE LINING
Pipe lining made from cast polyurethane in blue with 75 Shore A hardness. The lining is held in place from outside via two flanges.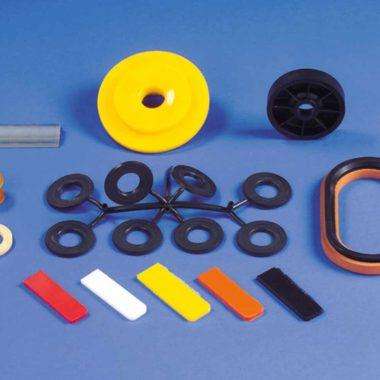 SEALS AND SCRAPER RINGS
Made from PUR foam, soft compact polyurethane or a combination of the two. Seals and scraper rings from Internorm are hardwearing and flexible.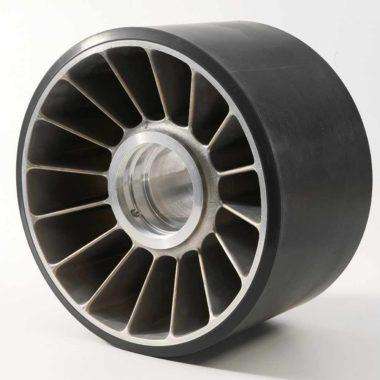 RUNNING WHEEL WITH POLYURETHANE COATING
We supply running wheels for forklifts and crawler tracks. Whether made from steel, aluminium or plastic, we can supply the complete wheel.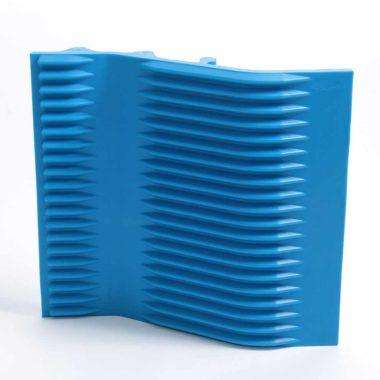 TRACK-FORMING PLATE FOR SNOW GROOMER
For use on snow groomer vehicles with a trailing plate that applies high pressure to form the tracks in the snow.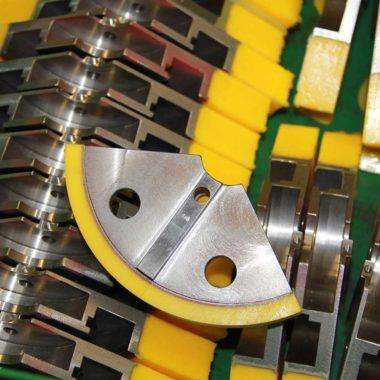 JAWS WITH PUR COATING
For use as brake shoes in machinery. PUR performs excellently in such applications. Also available with a metal core.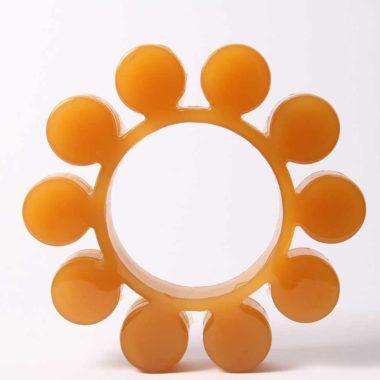 POLYURETHANE CLUTCH
Flexible clutches represent a classic application in machinery. The good tear propagation strength of polyurethane is especially important here.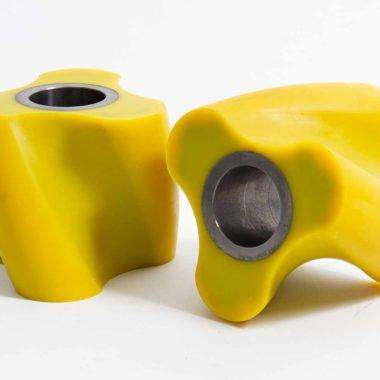 PUMP WHEEL MADE FROM POLYURETHANE
The soft polyurethane coating to the pump wheel enables it to fit tightly into the pump housing and therefore work very efficiently.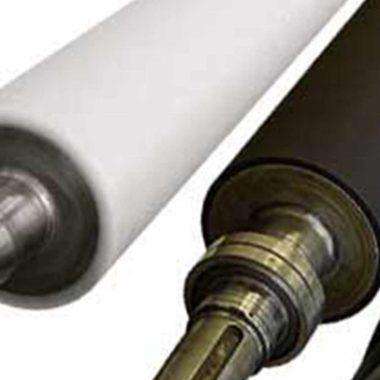 CYLINDER WITH [PUR] COATING
This consolidation roll was coated with an oil-resistant, ether-based material. This strong, cuts-resistant product is especially suitable for consolidating steel coils.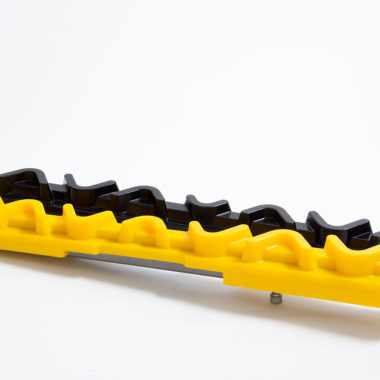 SEGMENTS FOR CRAWLER TRACKS
With metal core and cast profile for better grip when used in crawler drives operating on moors, in silage compaction and on unstable ground.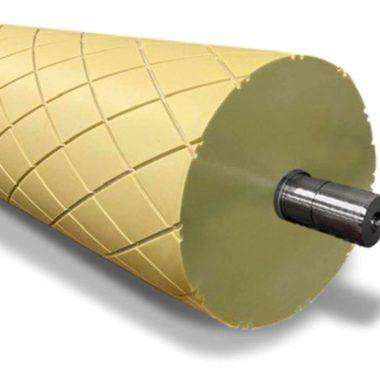 IDLER CYLINDER FOR BELT DRIVE
With criss-cross grooves for better water run-off. We are happy to supply cylinders complete with metal cores. Whether made from steel, aluminium or stainless steel, we supply what you want.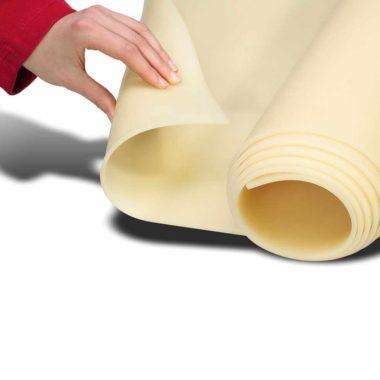 SOFT [PUR] PLATE
In many applications, linings to protect against wear would be inconceivable without the use of PUR materials. The abrasion resistance is crucial here.
The
[

PUR

]

e focus on development and production
INJECTION

MOULDING
Are you looking for a specialist to manufacture your injection-moulded parts? Then take a look here.
[PUR]

CASTING
Do you need large, soft or elastic parts made from polyurethane? Then simply get in touch with us!
[PUR]

CYLINDERS
Here are some examples of cylinders with [PUR] coatings. Take advantage of our all-round service.